Just like every other promising prospect in the PL, Leeds uprising winger Wilfred Gnonto has not been left behind and has just been linked with a move to the Emirates this summer. However, if there is one position Arsenal don't need to bolster, as per Jay Bothroyd, it is their wings.
In response to Gnonto's links, the ex-gunner believes Mikel Arteta has on his hands the three best wingers he can count on; hence, there is no need to add another.
Although he doesn't specifically mention them (the 3 top wingers), I'd imagine he is referring to Bukayo Saka, Gabriel Martinelli, and Leandro Trossard as these 3.
Apart from dubbing the Arsenal wingers top class, Bothroyd has taken the time to advise Mikel Arteta on the two moves he can make to help Arsenal progress.
In addition to the three fantastic wingers he already has, he believes Arteta should go all out to sign Victor Osimhen for his offence. After spending a fortune on Osimhen, it could be hard for Arsenal to complete a headline move for Declan Rice. That is probably why, at midfield, Bothroyd is championing a move for Alexis McAllister, who he feels could be the last piece of the puzzle for Arsenal's midfield. The gooner tweeted: "We don't need more wide forwards we have 3 top ones already! We need a striker plain and simple!!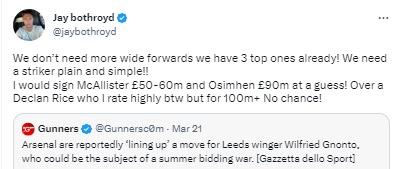 I would sign McAllister £50-60m and Osimhen £90m at a guess! Over a Declan Rice who I rate highly btw but for 100m+ No chance!" What do you think of these transfer recommendations?
Could those two be what Arteta needs to hear?
Daniel O
---
WATCH EVERY ONE of Mikel Arteta's and Jonas Eidevall's Full Press conferences by subscribing to our YouTube Channel – JustArsenalVids
CALLING ALL ARSENAL FANS! Anyone who would like to contribute an Article or Video opinion piece on JustArsenal, please contact us through this link…